In partnership with seven Capital Region leadership programs, concept and design a 14 page special section that profiles professional leadership programs in the Sacramento area. Engage readers and inform them about program features with a design that is commanding yet welcoming.
O V E R V I E W
This project entailed the layout, design,  and production of a section of program profiles for
Comstock's
business magazine in partnership with seven Capital region leadership programs. This section was included in Comstock's July 2018 issue. My responsibilities included visual concept curation, illustration selection, customization, and alteration, and layout design. 
My Role -
Lead Creative Designer
Client -
Comstock's
magazine, Various Capital region leadership programs
Tools -
InDesign, Illustrator, Photoshop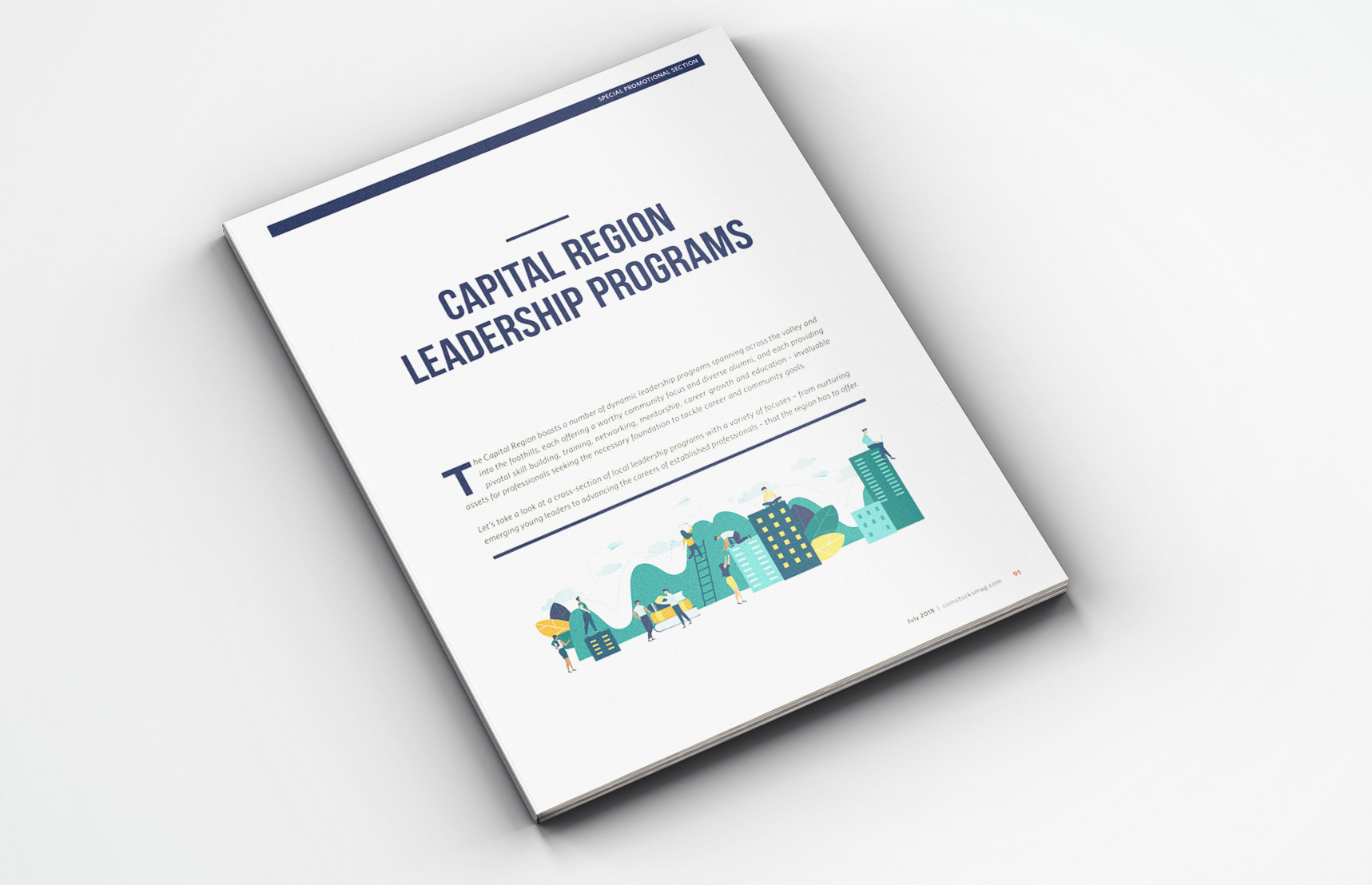 T Y P O G R A P H Y 
Bebas Neue Bold, characterized by straight lines and technical straightforwardness, cleanly introduces the name of each leadership program. This headline font is bold and warm with rounded shapes and serifs that soften up the all-cap approach. These qualities make the font a prime choice to head credible leadership programs in a section to run in a business magazine. The font is confident yet affable and aligns with the
Comstock's
brand. 
The program facts to the left of the main text feature an ultra-geometric font that is playful, friendly and highlighted with a teal bottom rule. Contrasted with courier, a typeface reminiscent of typewriter fonts, developing a form-like section that creates consistency between profiles. 
G R A P H I C S
I chose to give the cover page and each individual profile their own environmental flat color graphic. Each graphic features an abstract scene that show characters working together to cultivate ideas, solve problems, or forge new career possibilities. 
The graphics tell micro-stories on each page about the importance of teams and connections in leadership programs. The graphics are approachable and inviting; they help to personalize each leadership program and show that they are accessible,
not
 elitist, unattainable, or exclusive.